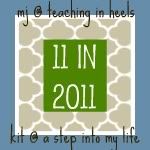 Day 10: Favorite Girls Night Out Event
I love, love, love my girlfriends. Most of them have been by my side since what we like to call, the good old days. AKA…college… when we became sisters…of Alpha Delta Pi. I can't believe that this year is 10 years since most of us met and 9 years since we rushed!
That's where I met my Mister too…we couldn't resist those Lambda Chi boys!
Although I don't see them nearly as much as I would like, we try our best to make monthly girls nights. Over the past two years we've been able to see each other even more than often thanks to weddings, showers and soon…babies. We do make it a point to always have birthday dinners at our favorite italian restaurant, Bella's. Where we eat, laugh, cry tell stories, reminisce and do lots of catching up. For me those nights are like therapy, I always leave with a full heart. Of course, I still love our nights out on the town which are very very few and far between these days. But, we have had some pretty wild bachelorette parties over the past few years! It really doesn't matter where we're going or what we're doing, as long as we do it together!
0
Did you like this post?