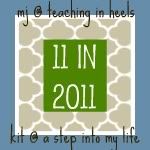 Day 11: What are you Looking Forward to in 2011
This year definitely hasn't started out the way I hoped for but I have faith that this will be one of the best years yet. Even though 2010 will be tough to top, I'm going to make sure it will happen. I truly believe that life is what you make it. I am determined to make the best out of each day.
2011 will bring…
*Weddings *Babies *House Renovations *Vacations *Weekend Getaways *First Anniversary *Family Visits *Love *Laughs *Blessings *Surprises *Life Lessons *Girl Time *Me Time *Learning *Growth *Faith *Fun
Bring it on 2011, I'm ready!
Don't forget about my first Giveaway!
0
Did you like this post?