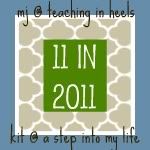 Day 3: Favorite Workout Tips
I've always been an active person. I enjoy working out and for the past few years have been a 3-4 days a week worker-outer. That was until 6 weeks ago. After my first half, I had NO DESIRE to workout. After work, all I wanted to do was snuggle under a blanket, watch Christmas movies, make bows and drink hot chocolate. Thankfully with the new year came a renewed drive. I started out the year with a 3 mile run, which I definitely didn't think I would be able to do after being off for 6 weeks. It was rough, but I survived. With that said, here are some tips that work for me…
* Find a workout partner to keep you motivated and accountable.
* Set a goal. Whether it's running your first 5K, half marathon, or doing 100 spin classes. Set it, set a date to accomplish it by, and get it done!
* Try to not focus so much on weight and put the focus on getting out and burning calories. When you only focus on losing a certain amount of pounds, once you hit that number you may lose your motivation to keep up the active lifestyle.
* Don't push it. If something hurts, stop what you're doing. You don't want to injure yourself, which will keep you further from your fitness goals.
If you're not a fan of the gym, there are some fabulous workout DVD's. I'm a fan of P90X and Jillian Michael's 30 Day Shred.
0
Did you like this post?