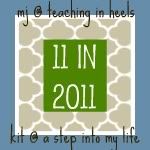 Day 6: Best Organization Tricks
I'm addicted to organizing and re-organizing. Here are some of my musts to keep my life organized:
1. I have weekly lists for home and daily lists at work. I don't know what I'd do without my to-do lists.
2. I love my label maker. I label everything I can and always know where things go. This works the best in my classroom!
3. Planner & Calendars. I was elated after Christmas when Vera Bradley's office supplies went 40% off. I went right away and picked up a new planner and desk calendar. Then, I came home and got to work. I wrote in every birthday, anniversary and important date on BOTH.
4. Storage bins and space. Instead of throwing things in one drawer (we all have them) have organized bins for things to go in.
5. This one has to do with finances…keep track of monthly bills on a spreadsheet. Out spreadsheet has the bill, date due, amount due, date paid and balance. We fill one out each month. That way we are on the same page and keep each other accountable.
I did a lot of re-organizing over Christmas break in our house. Here is what my craft room looked like after the long task…may still look messy to you all, but I know where EVERYTHING is.
I can't wait to get some fabulous tips from you all! Don't forget to link up with Kit and MJ!
0
Did you like this post?