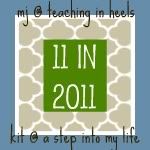 Day 8: Favorite Healthy Snacks
Love vitatop muffins for breakfast. They're easy to thaw make and taste great. I love banana nut and the chocolate chip.
I'm always looking for low calorie snacks with a good amount of protein. I tried this guy this week and loved them! They are only 110 calories!
The heart healthy mix is my favorite nut mix. I try to always keep them at work for those times when I need just a little snack.
I can't wait to see what healthy snacks you all are sharing today. I'm always on the hunt for healthy AND tasty foods.
Happy Saturday!
0
Did you like this post?