I'm starting the New Year off with a little blog challenge link up with Kit & MJ.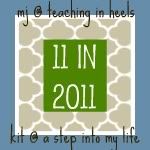 Day 1: New Years Resolutions
*Many of you probably already read this on Tuesday, for Top 2 Tuesday. For those of you new visitors, welcome!
I'm not a fan of new years resolutions. I try and make "resolutions" throughout the year. I'm always making lists of goals and things I want to do. All too often I hear of resolutions about changing something about oneself (exterior) and then I see how let down people are when it doesn't happen. That used to be me. But, a few years ago I started to really take time and think about the new year. I love the fresh start of a new year. I love the feeling that it's up to me to make this the best year yet and to be the absolute best I can be. So instead of making resolutions to lose weight, save money, etc- I'm making goals that I'm going to work towards all year long. No date to accomplish them by, no specific number attached to a resolution, just a simple goal. Now after all that rambling….
Here are two of my many goals for 2011:
1. Enjoy life more–be more spontaneous, have fun with friends, start traditions, start saying no, let stressful things go, do things I wouldn't typically do, show loved ones how much they mean to me, be a giver & live, love and laugh a lot more!
2. Slow down– I'm always on the go. I have a lot on my plate-a non profit that I run, a demanding job, and a set of expectations I place on myself that could reach the stars. I have a daily to do list that I work to accomplish. I stay up late working and get up at the crack of dawn. Often, I don't take care of myself as much as I should. So, I want to make it a point to take more time for myself. A time to unwind, relax and just breathe. I don't want to miss those little moments in life that mean the most as I'm running through it, when I should be taking a stroll.
**I'd also like to cross as many things off my 101 in 1001 list as possible. I love looking at that list on the weekends and thinking "What can I cross off today"?
What are your resolutions? Head on over to
Kit's blog
and play along.
Happy New Year!
0
Did you like this post?