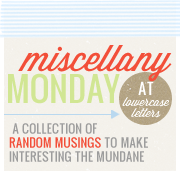 Happy Monday! These past 10 days have been the most wonderful days of our lives.  They've flown by and have been exhausting but worth every single sleepless night.  I have a little bit of time while hubs is napping and AG is finishing up a 3 hour stretch of sleep, so here's a little of what's on my mind lately.
Mom…my mother is hands down the most wonderful woman in the world.  She spend the first week of AG's life with us.  She cooked, cleaned, took AG when we needed a break, taught me how to do things, snuggled her granddaughter and overall was just a wonderful support.  I'm so so blessed to have her as a mom and AG is just as blessed to have her as a nana.  Thanks mom!
I never thought I would love the hairdryer as much as I do.  While AG was fussing one night, I decided to dry my hair because I couldn't sleep.  The minute the hairdryer went on, she stopped fussing.  It works like a charm!
Breastfeeding…boy are you harder than I thought you would be.  I will have a whole post on this one eventually.  All I have to say is it's gotten better day by day and I'm determined to stick it out.
Football season is approaching and I'm counting down the days.  We had our fantasy drafts last week and I have to say by teams are pretty good.  I'm sure hubs will take credit for them when I start beating him because I had to feed a fussy baby during the drafts and he made some picks for me.
Bath & Body Works fall scents are out.  As soon as I can drive again, I'm heading over there to pick mine up.  Sweet Cinnamon Pumpkin and Leaves are my two favorites.  AND…I have a coupon for $10 off $30, SCORE!
In 10 days I've lost half the baby weight.  I gained about 40lbs during the pregnancy and am down 20 as of today.  I'm hoping that the rest falls off this easily but I'm prepared to work my ass off if it doesn't. I'm also very ready to get back to the gym to get some of my muscle definition back.  But, overall I'm pleased with the loss so far.
All my teacher friends are back to work.  I love hearing the back to school stories but I don't miss teaching at this point…at all.  We will see how this changes over the year.  I have to make a decision whether I'm going to go back by April.  It seems so far away, but I know it will be here before I know it.
0
Did you like this post?