I can't believe that Christmas is one week away.  I have so much more to do to get ready.  We've all had a cold for the past few days, so this weekend was much more low key than we had planned.  Thankfully we're all feeling better today.
Here's some random things to start your Monday.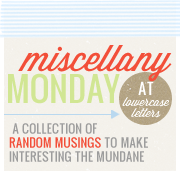 Last week I tried two new cookie recipes, or so I thought.  I took pictures, prepared my posts and as I went to post noticed I had made both cookies before. They had different names but… Same. Exact. Recipe.I have lots more to bake this week.  Yesterday, I knocked out red velvet bites, Reese's Cup brownie bites and fudge.  I plan on making one thing a day all this week.  The people at D's work are going to love me.  Tis the season.
My dad wants a Boppy for Christmas.  You know the boppy new moms use to feed or lay their baby in?  Yes, that one.  And he wants it for himself.  Preferably in blue.  You can always find my dad sitting down with his Ipad in his lap.  He thinks the boppy is the perfect belly pillow for reading in his comfy chair.  He's a character.
As much as I wanted to be out and about this weekend soaking up all things Christmas, it was nice to have a weekend at home.  We did lots of playing, let AG take all her naps in our arms and just relaxed. We haven't had a weekend like that since the baby was born, it was glorious.
Hubs and I started watching Damages on Netflix.  Thanks to our sick low key weekend at home, we finished the first season. I think it was a FX show, not sure if it's on anymore.  Anyhow, it's addicting.  Some of our other favorite series are Homeland and White Collar.  If you're looking for something new to watch, check them out.
If you follow me on Instagram, you may remember how excited I was when my
Sensationnail
kit arrived.  I did my nails yesterday and was surprised with how easy it was.  The real test is going to be how it holds up and how easy it is to take off.  I'll make sure to do a review in a few weeks.As much as I'm not ready to say goodbye to 2012, I'm excited for a new year.  I already have my 2013 calendar, planner and new pens ready to go.  I love the fresh start feeling that comes with the new year.
My mom called this weekend about Christmas dinner.  A lot of the things we usually make have dairy in it.  I feel so bad that she has to change it because of me. Thankfully she had already given it a lot of thought and we will be enjoying pot roast for dinner this year.
Today, you can find me over at PAIL for their Monday Snapshot.
Happy Monday Friends!
document.write('
0
Did you like this post?